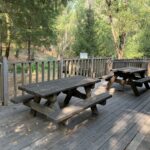 Thanks to an upgrade at Sugarloaf Ridge State Park, visitors can now attend school or work from the great outdoors!
In order to help local families work and study safely, Sugarloaf has installed a new high-speed internet connection from our Visitor Center, and all are welcome to stop by and Zoom their classes or meetings from the Center's lovely creekside deck.
The new service is available for a reasonable fee, or is free to campers staying four or more nights (from Sunday through Thursday) at the Sugarloaf campground.
"We have offered free lower speed internet access for years, which is fine for some web browsing and checking email—but recently we made higher speed access available so people can work or attend class from the park," explained Park Manager John Roney, a Sonoma Ecology Center employee. "Now we offer excellent WiFi in the vicinity of the Visitor Center, which allows campers to go there to work or study, then enjoy the outdoors at their campsite without the temptation of TikTok."
Meanwhile, those wanting to camp but lacking in camping equipment are still able to rent a tent for any of our sites—or rent our glamping campsite, which now has a second canvas tent so the kids can have their own space.
The park also continues to offer self-guided hikes for campers (find our hike guides here), including:
Quest Hike: Walk 1.4 to 2 miles while following rhyming clues to learn about Sugarloaf's flora, fauna and history. Children who complete the hike get a free ice cream upon completion!
Planet Walk: Hike from the Sun to the planets on our scale model hike that demonstrates the relative size of our Solar System. Learn about each planet along the way.
Creekside Nature Trail: This one-mile nature hike follows Sonoma Creek on an easy, flat trail that teaches hikers about the nature of the park.
Fire Recovery Walk: A one-mile hike that demonstrates the resiliency of nature in times of wildfire.
We hope to see you at the park!