Welcome to Sugarloaf Ridge State Park
Hiking Galore
Enjoy over 25 miles of trails for every level of hiking ability
Stunning Beauty
Adventure and exploration the entire family will love
Headwaters to Sonoma Creek
Enjoy a stunning waterfall which flows 25 ft. high after winter rains!
Stay and Explore
We offer 47 family-sized campsites!
Welcome to Sugarloaf Ridge State Park
Su
garloaf Ridge State Park contains the headwaters of Sonoma Creek. It runs through gorge and canyon, across the meadow floor, beneath scenic rock outcroppings, and is surrounded at times by redwoods and ferns. With 47 family sized campsites and 25 miles of hiking trails, it is the perfect place to spend time outdoors with your family!
Park Conditions
As of 5/12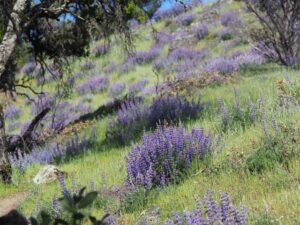 Spring at Sugarloaf Ridge State Park – A Nature Lover's Paradise
Discover wildflowers, birds, and more on picturesque trails
Spring at Sugarloaf Ridge State Park offers a vibrant display of wildflowers, active birdlife, a mesmerizing waterfall, and graceful butterflies. Though there's no Super Bloom, the park remains a must-visit destination for nature enthusiasts. Here are the best trails to experience the enchanting wildflowers and springtime birds:
Easy: Creekside Trail & Meadow Trail – Enjoy a leisurely walk among wildflowers and birds like the Western Bluebird.
Easy/Moderate: Meadow/Hillside Loop – Hike through wildflower-covered hills and valleys, and spot the Oak Titmouse.
Moderate: Vista Loop – Discover an array of wildflowers and watch for the vibrant Anna's Hummingbird.
Difficult: Bald Mountain Trail & Goodspeed Trail – Encounter diverse wildflowers and bird species like the Acorn Woodpecker.
Pack a picnic, bring your camera and binoculars, and immerse yourself in the captivating scenery and soothing sounds of nature at Sugarloaf Ridge State Park.
Camping:  We have 44 campsites open, both reservable in advance and first-come, first-served in our lovely creekside campground. Our glamping sites opened April 1st.
Support Sugarloaf
Your donations help keep Sugarloaf open for all!
Read the Sonoma Ecology Center 2022 Impact Report!
Our parent organization, Sonoma Ecology Center, making great impacts in the areas of COMMUNITY, LAND, CLIMATE, WATER, and BIODIVERSITY in Sonoma Valley.
Camping at Sugarloaf
You can enjoy camping year-round at Sugarloaf with 47 family-friendly, alcohol-free camping spaces nestled in a large meadow and bordered by a year-round stream and a hillside forest.
Stargazing at Robert Ferguson Observatory
Completely dedicated to public viewing and education, the Robert Ferguson Observatory is the LARGEST in the western United States and it's right here at Sugarloaf Ridge State Park.
Community-Operated Park
Sugarloaf Ridge State Park is operated by Sonoma Ecology Center and Team Sugarloaf. Learn more by visiting the Team Sugarloaf Page