Hiking Galore
Enjoy over 25 miles of trails for every level of hiking ability
Stay and Explore
We offer 47 family-sized campsites! Group camping available as well.
Aug
22
Thu
Sugarloaf Trail Crew

@ Sugarloaf Ridge State Park
Aug 22 @ 9:00 am – 1:00 pm
Help Sugarloaf with trail restoration work. Work includes bridge and step construction, installing signs, clearing, lifting, carrying and hiking. Bring gloves, hat, and water that you can carry hands-free (i.e. bring a backpack).Wear long pants, boots or sturdy shoes and sunscreen. Poison oak is present, so long sleeves are suggested. We have tools and trained crew leaders with tasks for all. Those under 18 years old must be accompanied by a responsible adult. We will provide tools, food and beverages. If you are a current State Parks volunteer, signup in vicnet. If you are an SEC volunteer, sign up here: http://www.signupgenius.com/go/20f0e4aaca62ca3ff2-sugarloaf1
Aug
24
Sat
Medical Provider Forest Therapy Walk

@ Sugarloaf Ridge State Park
Aug 24 @ 9:30 am – 12:30 pm
This is an invitation to a guided forest therapy walk specifically designed for healthcare professionals. Please share this invitation with the physicians, therapists, and nursing staff at your organization.
Forest Therapy is a research-based framework for supporting healing and wellness through immersion in forests and other natural environments. Forest Therapy is inspired by the Japanese practice of Shinrin-Yoku, which translates to "forest bathing." Studies have demonstrated a wide array of health benefits, especially in the cardiovascular and immune systems, and for stabilizing and improving mood and cognition. We build on those benefits and look beyond, to what happens when people remember that we are a part of nature, not separate from it, and are related to all other beings in fundamental ways.

"Forest bathing" is derived from the Japanese term, "
shinrin-yoku
," a concept coined by two physicians in Tokyo in the early 1980s. Drs. Li and Miyazaki were concerned about the high rates of mental illness and suicide in Tokyo and postulated that healing could be achieved by guiding people into the forest, simply to take the elements of nature in through the senses. These doctors have collected data on their participants over the last several decades and discovered that quiet, contemplative time spent in nature is, in fact, healing for both mental and physical health. An excellent review of their work, as well as other studies involving forest bathing, can be found at this link: 
https://www.ncbi.nlm.nih.gov
 › pmcWeb resultsShinrin-Yoku (Forest Bathing) and Nature Therapy: A State-of-the …
Amos Clifford has expanded upon the work of Drs. Li and Miyazaki, by founding the Association of Nature and Forest Therapy (ANFT) in the U.S. This organization has now trained 700 guides in 46 nations around the world, with the original training site being Sugarloaf State Park, in Sonoma County.
You are invited to join Amos at Sugarloaf on one of a series of walks designed specifically for physicians in the coming weeks. As a physician myself, I will share that the practice of forest bathing not only saved me from a state of burnout and helped me through the grief of losing a spouse, but that it has also been a source of healing for my patients. I have accounts of patients experiencing life-saving revelations following suicide attempts, to patients finding relief from chronic, unremitting pain. I've never experienced anything like it, as a healing modality.
I hope you will accept this unique opportunity to be guided by Amos, himself, and to take a few hours to heal thyself. As Amos teaches his guides, "the forest is the therapist, the guide simply opens the door."
Sincerely,
Suzanne Bartlett Hackenmiller, MD, FACOG, ABOIM
Medical Director, Association of Nature and Forest Therapy
Yoga Hike – session 2

@ Sugarloaf Ridge State Park
Aug 24 @ 9:30 am – 12:00 pm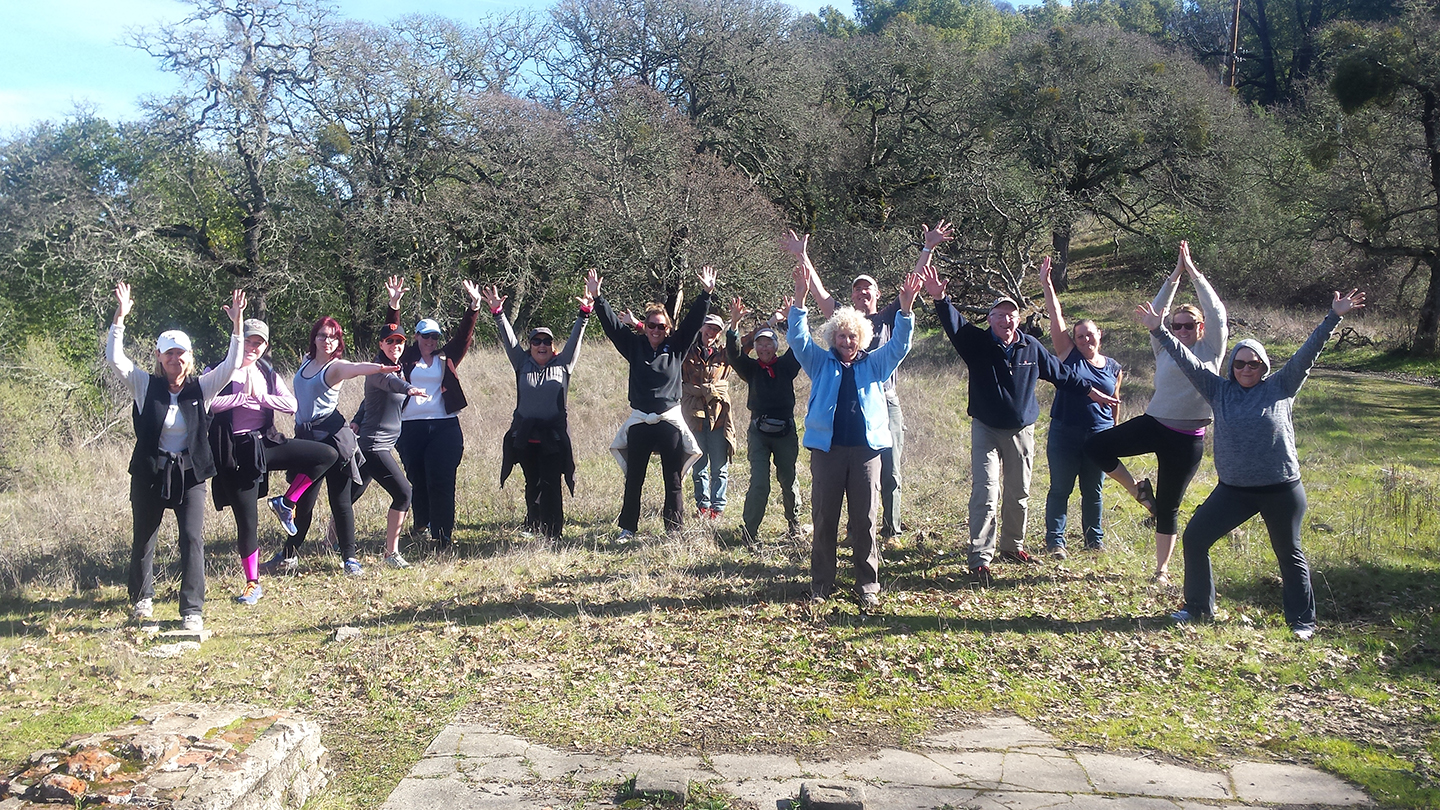 Susan Topf's Yoga Hike balances a mix of easy hiking and gentle yoga postures, breath work and guided meditation. No mat necessary. Please wear weather appropriate clothing to feel comfortable being in a natural setting and bring water (as needed). Route varies on weather conditions and group interest that typically covers 2-3 miles of varied terrain. Cost is $20 and includes parking if registered in advance online. Purchase the yoga pass for each group of 3 sessions this year and save $10. All levels and ages welcome. Meet at the Visitor's Center unless otherwise noted in confirmation email prior to the hike.
Sonoma County Resident? 
Free with Park Rx from participating Sonoma County Medical Provider.
 Click
here
for ParkRx info.
Creekside Nature Hike

@ Sugarloaf Ridge State Park
Aug 24 @ 10:00 am – 11:30 am
Join us for a 1.4-mile nature hike along the Sonoma Creek. On the hike your leader will teach you about the plants, animals, and aquatic life of Sonoma Creek. The hike starts at the visitors' center. No fee, but parking charges apply.
RFO Solar Viewing

@ Robert Ferguson Observatory
Aug 24 @ 11:00 am – 3:00 pm
The Robert Ferguson Observatory (RFO) is open to the public at least once a month, usually on a Saturday near the time of the New Moon (see schedule at left).
Daytime Solar: Solar telescopes are set up so you can safely look at and listen to our favorite star, the Sun.
For more information, visit: rfo.org
The Robert Ferguson Observatory: Both peaked roofs roll back to reveal the telescopes inside.
The dome opens and revolves with its telescope. The tall poles attached to the sides of the building
are part of RFO's radio astronomy set-up that allows us to listen to the Sun. Photo: Mark Hillestad
Campfire Program

@ Sugarloaf Ridge State Park
Aug 24 @ 7:30 pm – 8:15 pm
Every Saturday at 7:30 PM, we'll have songs, games, and animal lore at the park's amphitheater (across the bridge by campsites 12 & 13). Free event but parking charges apply. 
RFO Public Star Party

@ Robert Ferguson Observatory
Aug 24 @ 8:00 pm – Aug 25 @ 12:00 am
The Robert Ferguson Observatory (RFO) is open to the public at least once a month, usually on a Saturday near the time of the New Moon.
Star Parties: Presentations on astronomical topics are given in the classroom throughout the course of the evening. Starting at dusk, the Observatory's three main telescopes are open for your viewing. Docents set up additional telescopes in front of the building. Friendly and knowledgeable docents are available to answer your questions.
FAQs:
When to arrive: We keep the observatory open as long as there are visitors, but you must arrive within 3 hours after start time to ensure that we remain open for you. Summer Star Parties begin with tours and presentations until it's dark enough for observing.
Bring warm clothing, even in summer—observing is done outdoors.
There is a short walk from the parking area to the Observatory and you may wish to bring a small flashlight.
White Light: No white lights should be used after dark; the observatory is a red-light-only area to protect everyone's night vision. We will supply red cellophane to cover flashlights. Please note:
◦ Bring a SMALL flashlight (large camp lanterns, light sticks, etc., cannot be adequately covered by red cellophane).
◦ Cell phones or cell-phone flashlights are acceptable but must be covered in red cellophane. (No cell service at the observatory).
◦ Some head lamps are difficult to cover with red cellophane. Once covered, head lamps should be worn around the neck or used pointing down as they are usually very bright at eye level.
◦ Red flashlights are available for $5 at the observatory.
Alcohol is prohibited on Observatory grounds.
The Observatory is not open to the public except for scheduled events.
Classroom presentations are always offered on Star Party nights even if the weather is poor. For current conditions call the observatory at 707/833-6979.
For more info please visit Robert Ferguson Observatory Website: http://www.rfo.org/.
Support Sugarloaf
Your donations help keep Sugarloaf open for all!
Camping at Sugarloaf
You can enjoy camping year-round at Sugarloaf with 47 family-friendly, alcohol-free camping spaces nestled in a large meadow and bordered by a year-round stream and a hillside forest.
Stargazing at Robert Ferguson Observatory
Completely dedicated to public viewing and education, the Robert Ferguson Observatory is the LARGEST in the western United States and it's right here at Sugarloaf Ridge State Park.