Welcome to Sugarloaf Ridge State Park
Hiking Galore
Enjoy over 25 miles of trails for every level of hiking ability
Stunning Beauty
Adventure and exploration the entire family will love
Headwaters to Sonoma Creek
Enjoy a stunning waterfall which flows 25 ft. high after winter rains!
Stay and Explore
We offer 47 family-sized campsites!
Open for Camping and Day Use
Group camping and group day-use closed.
Park Hours
Day use: 6am-10pm
Campers can arrive or return after 10pm
We encourage you to consider current air quality conditions at the park before your visit using this meter →
Loading PurpleAir Widget...
Campsites at Sugarloaf Ridge State Park are open. 

 
Due to COVID-19, campsites rules and procedures in place designed to keep visitors and staff safe, and social distancing protocols are still enforced throughout the park. Here's how camping will be different at Sugarloaf Campground:
The following sites remain closed: 8, 13, 17, 35, 38.

Only two cars per site, with one family group and no outside visitors, are allowed.

Each site will have its own portable toilet (porta potty) for the exclusive use of that site. The toilets will be cleaned upon campsite turnover.

We encourage visitors in self-contained RVs to make use of their own facilities rather than the park facilities.

Some flush toilet facilities and showers remain open and our staff cleans them 3-4 times per day.

We recommend bringing your own soap along with cleaning supplies such as wipes.

The tent rental program is open our staff will disinfect tents between each use.
Reservations for Sugarloaf campsites may be made 48 hours in advance here.
Reserve a tent here. 
For same-day first-come-first-served reservations, please call the park at 10am on the day you want to arrive at 707-833-6084 or 5712.
We are providing additional cleaning services free of charge. However, we are asking for a $10 donation per day—only from those that are able—to cover our additional cleaning and porta potty costs.
We ask all park visitors to adhere to the Sonoma County health ordinance guidelines, which require the use of masks or face coverings when unable to keep a minimum distance of six feet from others not in your immediate household.
Anyone with coronavirus symptoms (commonly a fever, dry cough, or shortness of breath) should not come. Those with reservations may cancel with no penalty. Read more about coronavirus symptoms.
Sugarloaf is open for day use.
Sugarloaf Ridge State Park is now open for day-use parking and camping. The restrooms are open and are being disinfected 3-4 times per day.
The visitors center,  picnic area, and the campground remain closed.
To reduce interactions at our park, please purchase your day pass or annual pass online before you arrive.
Social Distancing and Face Covering Information
Park visitors must comply with social distancing, hygiene, and face-covering requirements:
Stay at least 6 feet from others who are not part of your household.

Carry a face covering at all times. Coverings must be worn outdoors when you cannot stay 6 feet from others, such as when passing others on a trail.
Do not visit a park if you have any symptoms of Covid-19: fever, cough, sore throat, shortness of breath, unusual headaches, severe fatigue, chills, gastrointestinal symptoms, and lost sense of smell or taste.

Do not use group facilities.

Do not use drinking fountains. Bring your own water.

Pack out your litter to reduce the amount of trash parks staff and visitors may come into contact with. 

Cover coughs or sneezes with a tissue and pack out your tissue for disposal at home.
Parking
When parking, please observe social distancing protocols. If the park becomes too crowded, we may temporarily close access. Please come early or later in the day if you want to be sure of entry.
Events
We have resumed small 12 person social distanced events starting on June 27.   Please see our calendar for details.  
Additional Information
For more information about Sonoma County's shelter-in-place health order and other Covid-19 emergency resources, visit SoCoEmergency.org.

Sep
19
Sat
Creekside Nature Hike

@ Sugarloaf Ridge State Park
Sep 19 @ 9:30 am – 11:00 am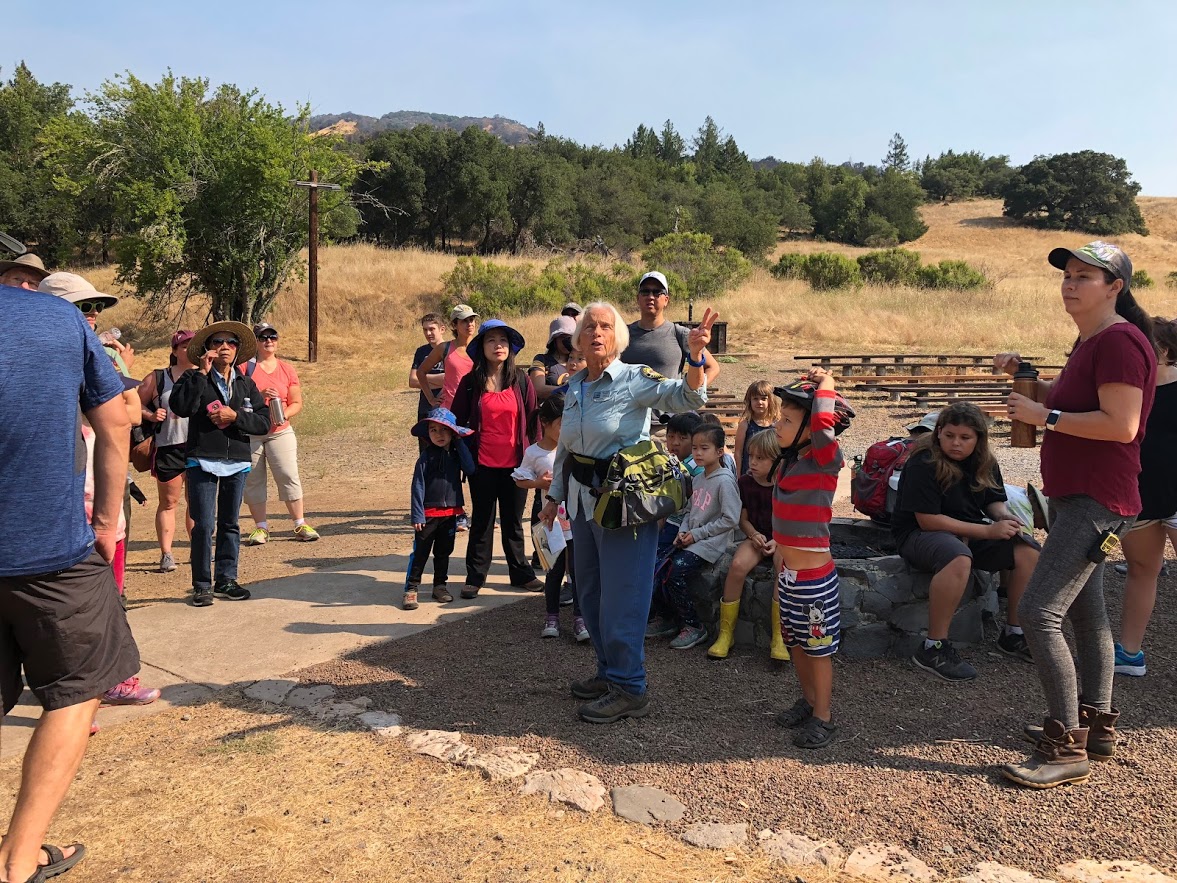 Join us for a 1.4-mile nature hike along the Sonoma Creek. On the hike your leader will teach you about the plants, animals, and aquatic life of Sonoma Creek. The hike starts at the Visitors Center. No fee, but parking charges apply. 
The first hike starts at 9:30am, second starts at 11 am. Sign up at Visitor Center or RSVP to alma@sonomaecologycenter.org
Limited to 12 participants.
Caminata de la ecología del fuego / Fire Ecology Walk

@ Sugarloaf Ridge State Park
Sep 19 @ 10:00 am – 11:30 am
Caminata de la ecología del fuego
Sábado 19 de septiembre, 10-11:30am
La tierra que conocemos como California ha existido por milenia, y con ella, fenómenos naturales. Esta caminata de aproximadamente 2.5 millas recorrerá los senderos Lower Bald Mountain y Stern, en búsqueda de cómo los incendios forestales cambian y moldean el ecosistema. El punto de reunión es el granero blanco. Esta caminata es gratuita pero requiere una reservación, ya que es limitada a diez participantes. Mande un correo electrónico a alma@sonomaecologycenter.org para registrarse, o con sus preguntas. El estacionamiento es $10 por vehículo. Se observará el uso de cubrebocas y el distanciamiento social. Este evento será en español con un guía bilingüe.
English: Fire Ecology Walk
Saturday, 9/19, 10-11:30am
The land we know as California has existed for millennia, and with it, natural phenomena. This 2.5-mile walk will go on the Lower Bald Mountain and Stern trails in search of signs of how wildfires change and landscape the ecosystem. We'll meet at the White Barn. This free event requires RSVP (alma@sonomaecologycenter.org) as it is limited to 10 participants. Parking is $10 per vehicle. Bring your mask and respect social distancing. Please note this walk will be primarily in Spanish with a bilingual guide.
Yoga Hike – session 3

@ Sugarloaf Ridge State Park
Sep 19 @ 10:00 am – 12:30 pm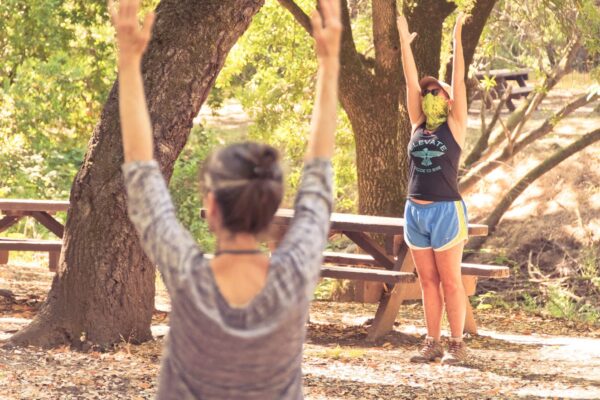 Susan Topf's Yoga Hike balances a mix of easy hiking and gentle yoga postures, breath work and guided meditation. No mat necessary. Please wear weather-appropriate clothing to feel comfortable being in a natural setting and bring water (as needed) and your mask. Route varies on weather conditions and group interest that typically covers 2-3 miles of varied terrain. Cost is $25 and includes parking if registered in advance online. Purchase the yoga pass for each group of 3 sessions this year and save $15. All levels and ages welcome. Meet at the Visitor's Center unless otherwise noted in confirmation email prior to the hike. Limited to 12 participants.
Sonoma County Resident? 
Free with 2020 ParkRx from participating Sonoma County Medical Provider.
 Click
here
for ParkRx info.
Tickets –https://sec.simpletix.com/e/57882
Sep
24
Thu
Sugarloaf Trail Crew

@ Sugarloaf Ridge State Park
Sep 24 @ 9:00 am – 1:00 pm
Help Sugarloaf with trail restoration work. Work includes bridge and step construction, installing signs, clearing, lifting, carrying and hiking. Bring gloves, hat, and water that you can carry hands-free (i.e. bring a backpack).Wear long pants, boots or sturdy shoes and sunscreen. Poison oak is present, so long sleeves are suggested. We have tools and trained crew leaders with tasks for all. Those under 18 years old must be accompanied by a responsible adult. We will provide tools, food and beverages. If you are a current State Parks volunteer, signup in vicnet. If you are an SEC volunteer, sign up here: http://www.signupgenius.com/go/20f0e4aaca62ca3ff2-sugarloaf1
Sep
26
Sat
Hiking for Fitness "Maintenance" Hike

@ Sugarloaf Ridge State Park
Sep 26 @ 9:00 am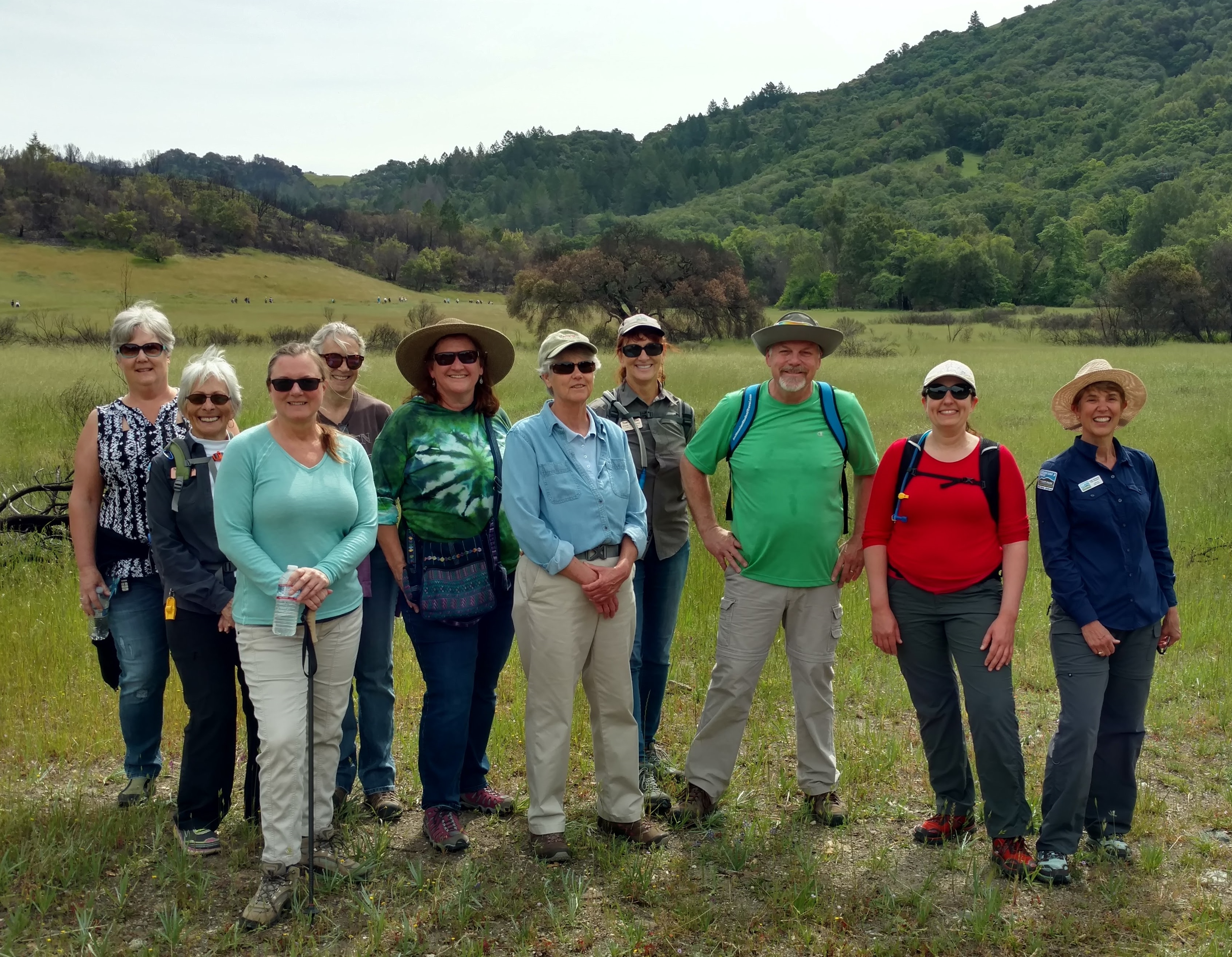 Join our Hiking for Fitness "graduates" on this free, Intermediate Fitness Hike.
May and June hikes meet at 8AM instead of 9AM.
RSVP is a must and limited to 10 participants.
Creekside Nature Hike

@ Sugarloaf Ridge State Park
Sep 26 @ 9:30 am – 11:00 am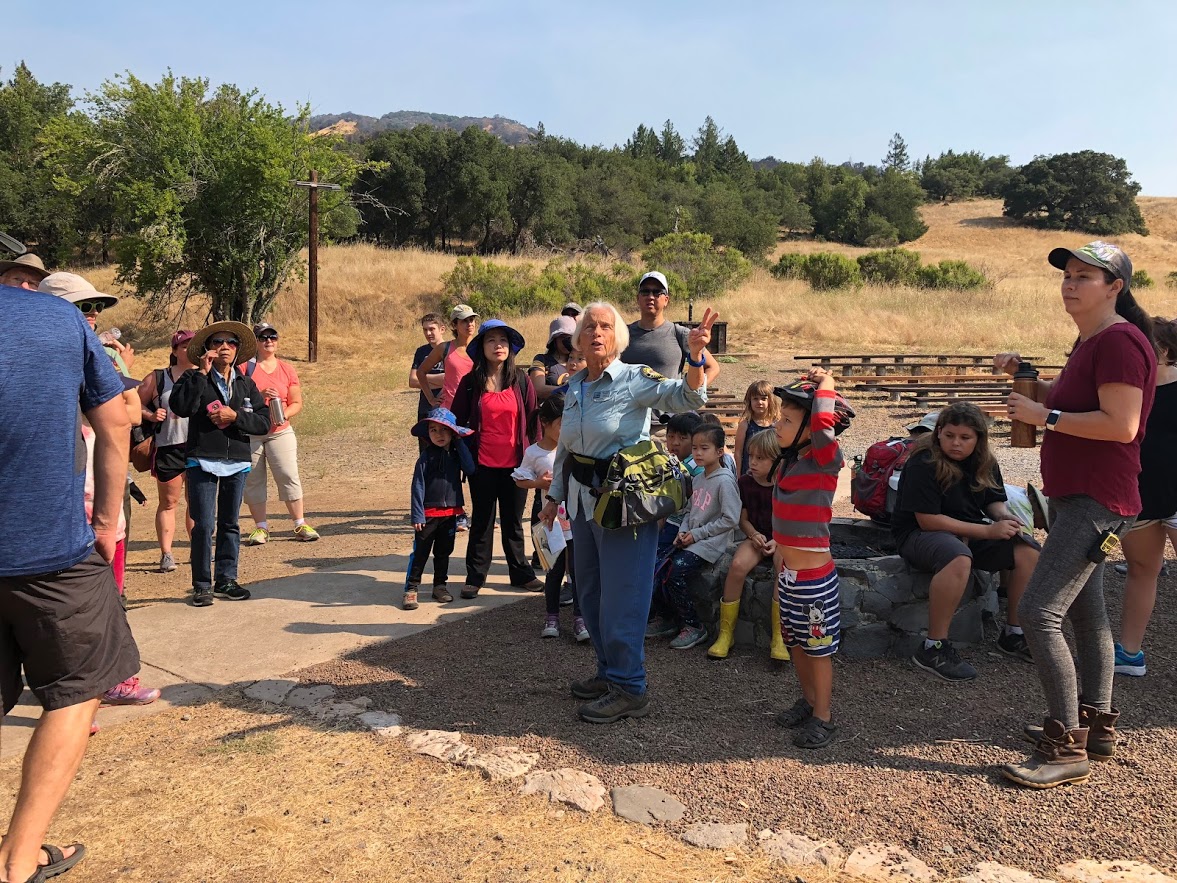 Join us for a 1.4-mile nature hike along the Sonoma Creek. On the hike your leader will teach you about the plants, animals, and aquatic life of Sonoma Creek. The hike starts at the Visitors Center. No fee, but parking charges apply. 
The first hike starts at 9:30am, second starts at 11 am. Sign up at Visitor Center or RSVP to alma@sonomaecologycenter.org
Limited to 12 participants.
Forest Therapy

@ Sugarloaf Ridge State Park
Sep 26 @ 9:30 am – 12:30 pm
The practice of Forest Therapy has been shown to improve health and well-being.
Have you heard about Shinrin-yoku or Forest bathing? Here is an opportunity to take a walk and experience the practice for yourself. Learn techniques to maximize the health benefits and stress reducing qualities of this walking practice. Shinrin-yoku originated in Japan and is gaining popularity in the United States for its documented Health benefits.
This practice takes a walk in the woods to another level. A centering and calming restorative practice, it promotes balance and restored vitality through a quality of presence and heightened sensory awareness. Recent articles have been written up in Oprah, Time Magazine, and National Geographic, as well as numerous other publications. Sugarloaf Ridge State Park hosts a Forest Therapy Series as part of its ParksRx Program the 4th Saturday of each month. These walks are led by certified ANFT (Association of Nature and Forest Therapy) practitioners. See http://www.natureandforesttherapy.org/ for more info about this practice.
Tickets are $20 or free with a 2020 ParkRx from a Sonoma County Medical Provider (click here for more info)
Support Sugarloaf
Your donations help keep Sugarloaf open for all!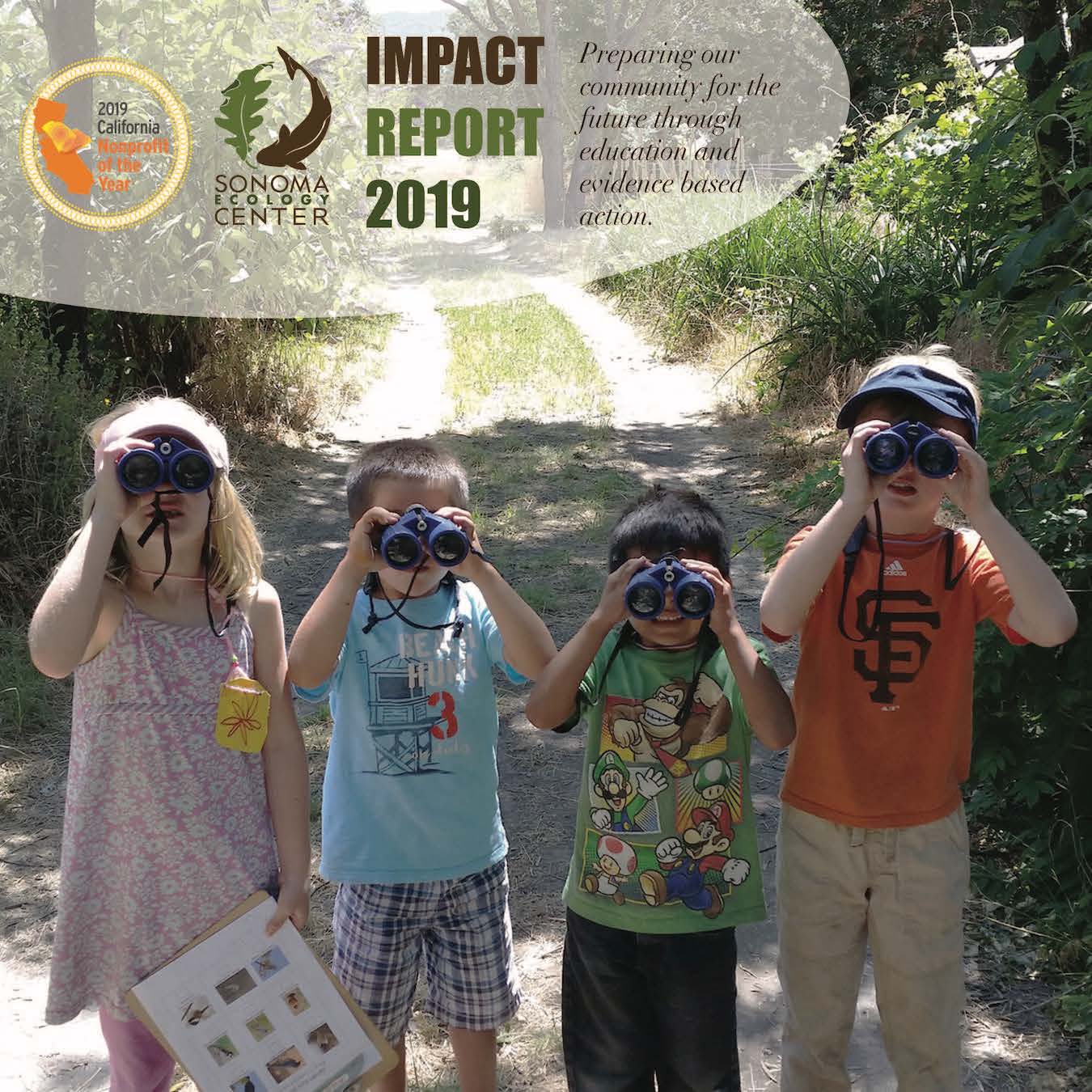 Check out the 2019 Impact Report for the Sonoma Ecology Center! This report goes into detail of the impact and presence of Sonoma Ecology Center, our parent organization, a nonprofit dedicated to the ecological health of Sonoma Valley. READ THE FULL REPORT.
What can do you with your family for a whole week in the Sonoma Wine Country, especially if your children have not developed a mature palate yet? A whole lot more than you would think. Here at Sugarloaf Ridge State Park, we see many families throughout the year and many wish they had planned to stay longer than a weekend. We know Las Vegas tried to market itself as a family destination back in the 90s (it did not go well), however, here in Sonoma County we are the real deal. We advocate making the beautiful campgrounds at Sugarloaf Ridge State Park your base of operations to explore all the family fun Sonoma County has to offer.
Camping at Sugarloaf
You can enjoy camping year-round at Sugarloaf with 47 family-friendly, alcohol-free camping spaces nestled in a large meadow and bordered by a year-round stream and a hillside forest.
Stargazing at Robert Ferguson Observatory
Completely dedicated to public viewing and education, the Robert Ferguson Observatory is the LARGEST in the western United States and it's right here at Sugarloaf Ridge State Park.
Community-Operated Park
Sugarloaf Ridge State Park is operated by Sonoma Ecology Center and Team Sugarloaf. Learn more by visiting the Team Sugarloaf Page