Senderos Naturales
Senderos es el programa español del Centro Ecológico de Sonoma, en asociación con el Centro La Luz y Vía Esperanza, un proyecto de Community Action Partnership. Aquí tenemos programas en español para familias en el valle de Sonoma y Santa Rosa. Por favor, ven y disfruta de la naturaleza en nuestro hermoso hogar!
Eventos bilingües en el parque estatal Sugarloaf Ridge. Contacte a Alma (alma@sonomaecologycenter.org) con sus preguntas.
Apr
17
Sat
Senderos de flores

@ Sugarloaf Ridge State Park
Apr 17 @ 10:00 am – 12:00 pm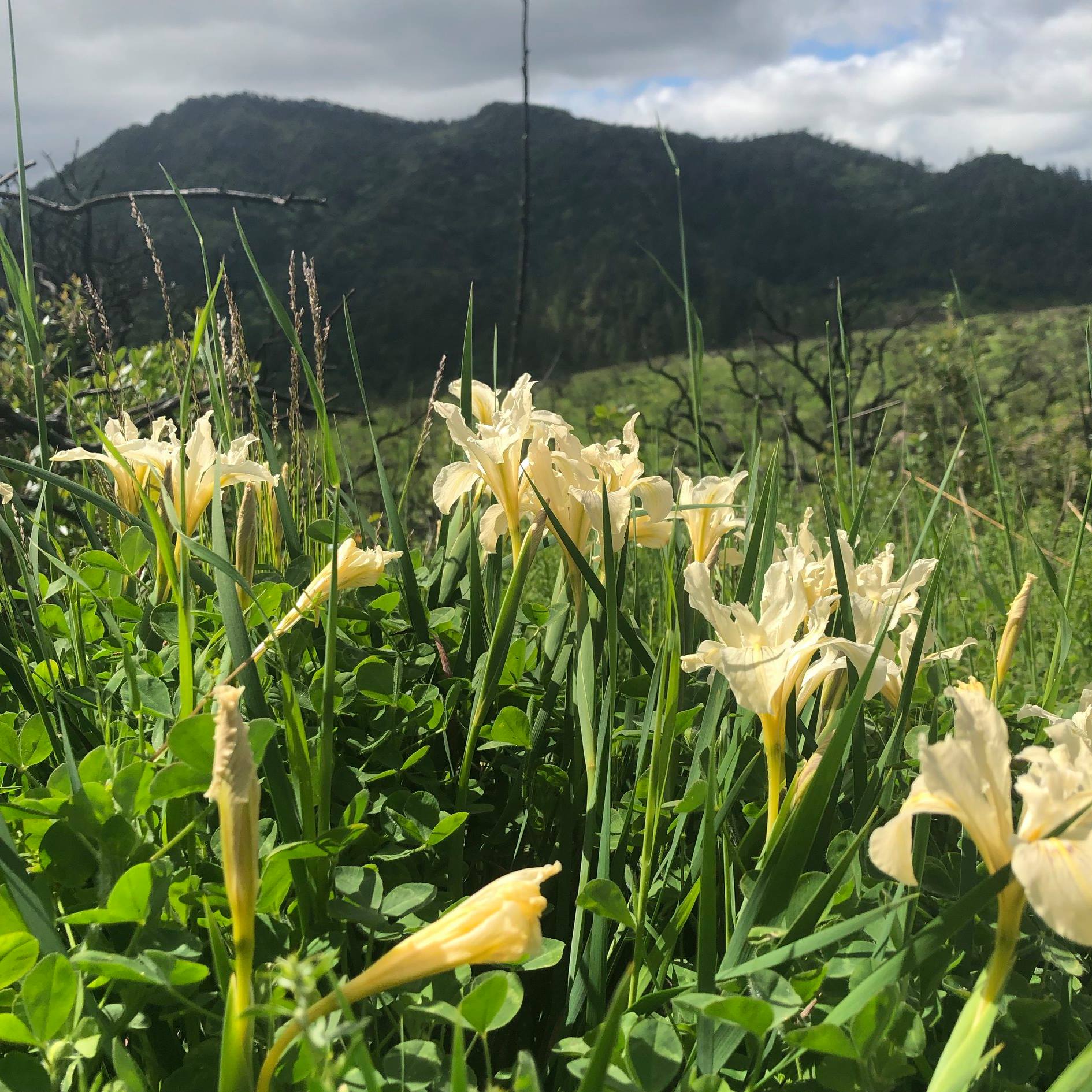 Sábados 3 ó 17 de abril, 10AM- mediodía
Venga a disfrutar de una caminata llena de flores silvestres.  Un guía nos acompañará en un recorrido de aproximadamente tres millas donde aprenderemos acerca de las flores silvestres en el parque durante la primavera, incluyendo algunas que solamente brotan después de incendios forestales.
En preparación para el Reto Naturalista Urbano (City Nature Challenge, CNC), utilizaremos la aplicación iNaturalist para documentar lo que veamos en el recorrido.
Nos reuniremos afuera del centro de visitantes diez minutos antes de las diez de la mañana. El evento y estacionamiento son gratuitos pero por favor regístrese aquí ya que el evento es limitado a 12 participantes.
Por favor vista calzado adecuado, capas, y traiga suficiente agua. También le invitamos traer una taza para que sus pequeños disfruten de chocolate caliente después de la caminata. Si tiene alguna pregunta contacte a alma@sonomaecologycenter.org Lluvias fuertes cancelan el evento. Observaremos órdenes de salud del Condado como el uso de cubrebocas y el distanciamiento personal.
Este evento es respaldado por Route to Parks, una beca de Parks California. 
English: Wildflower Walk
Saturday 4/3 or 4/17, 10am-noon
Come enjoy a walk amongst the wildflowers. A guide will take us on a walk of about 3 miles where we'll learn about the spring wildflowers in the park, including ones that only spring up after wildfires. In preparation for this year's City Nature Challenge, we will utilize iNaturalist to document what we find during our walk.
We will meet behind the Visitor Center ten minutes prior to the event start time. This is a free event planned around a primarily Spanish speaking audience of up to 12. Families from underrepresented groups are particularly welcome. Registration is required. Please wear appropriate clothing and bring a reusable container so your little ones can enjoy hot cocoa after the walk. Email alma@sonomaecologycenter.org with your questions. Heavy rains cancel. We will observe personal distancing and mask-wearing in compliance with County Health orders.
Senderos Naturales is supported by Route to Parks, a grant of Parks California.
Apr
24
Sat
Earth Day celebration and creek cleanup at Nathanson Creek Preserve

@ Nathanson Creek Preserve
Apr 24 @ 9:00 am – 12:15 pm
Sonoma Ecology Center's "Earthling" Teen Volunteer Group is hosting a COVID-safe Earth Day celebration and creek cleanup at Nathanson Creek Preserve on Saturday, April 24, 9-10:30, 10:45-12:15, in honor of Earth Day and SEC's 31st Anniversary! The event is open to people of all ages and there will be a variety of activities to safely participate in; from the scavenger hunt and seed planting (take home a pollinator sprouting cup) to cleaning up trash along the creek. In order to guarantee participants' safety and to comply with Sonoma County's health order governing outdoor activities, mask-wearing and other social distancing protocols will be in effect in all areas. The main activities, and the start of the creek cleanup, will be at the Nathanson Preserve Demonstration Garden at the corner of 2nd Street West and East MacArthur Street. (Please do not park in the MacArthur Place lot.). RSVPs are required
For questions or to register, please contact Tony Passantino, SEC education program manager, at tony@sonomaecologycenter.org.
Cleanup Event Details
Volunteers will clean up the restored section of Nathanson Creek behind Sonoma Valley High School and Adele Harrison Middle School.
A maximum of 12 volunteers per shift are allowed and RSVPs are required. Please arrive as close to the start time as possible for a brief safety talk beforehand.
Volunteers are asked to bring their own water and to wear comfortable shoes and layered clothes they don't mind getting dirty. Organizers will provide litter grabbers, garbage bags, buckets, and gloves; volunteers may bring their own work gloves and plastic bags if they have them.
After each cleanup event, recyclables will be separated from trash and the trash weighed and recorded.
May
15
Sat
Herbology in the Garden- Planting for health, home & happiness

@ Sonoma Garden Park
May 15 @ 12:30 pm – 2:30 pm
They say 'let food be thy medicine'. Herbs have been used for health and healing in Sonoma Valley since the first Indigenous People walked the land. In this workshop, we will use wisdom from east and west to build self-care knowledge and skills with plants you can grow in our area. 
From planting and propagation to processing preparations and using herbs, if your goal is to use nature to become more healthy and self-sufficient, join this workshop!
Many of us are trying to avoid personal care and cleaning products that come in plastic bottles. Let's go straight to the source and treat Mother Earth kindly in the process.
Participants may bring 2 empty jars for their herbal remedies.
Sonoma Garden Park was protected by Ag + Open Space in November of 2011 for recreation and preservation of its natural resources, and learning classroom environment for agriculture field trips for nearby elementary schools through Sonoma Ecology Center's "Growing Discovery" program. The 6-acre property, hidden in eastern Sonoma, is an incredible public park and working garden site in Sonoma Valley, containing a wide array of habitats alongside sustainably designed systems for both agriculture use and landscaping purposes.