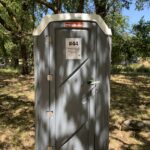 (PPPP NO LONGER ACTIVE – but you can rent a porta-potty for your site – see our camping page )  Though you can call When we got the word that we could reopen the campground there at Sugarloaf, keeping our patrons safe was our primary concern.   The campground staff realized that many campers were uncomfortable with sharing bathrooms with others.   Hence, the PPPP (Personal Porta Potty Program) was born.   Each campsite has its own porta-potty which our dedicated campground Staff cleans between each set of campers.  "The feedback from campers has been overwhelmingly positive", said campground manager Woody Woodbury. "They like the safety as well as the convenience of having a toilet near their site," he continued.
The park is not charging for the porta-potties but is asking for a $10 per night donation from those who can afford it.   According to park manager John Roney, "The public has been very generous and in the first month of the program, we just about covered the additional cost."
To make reservations at Sugarloaf Ridge State Park, go to ReserveCalifornia.com.    For same-day reservations, you can call the park for any available first-come sites of cancellations.