Dec
17
Sat
Sugarloaf Nature Photography Hike

@ Sugarloaf Ridge State Park
Dec 17 @ 10:00 am – 1:00 pm
Winter in Sugarloaf offers many different colors, shapes, textures, and lighting: great for practicing nature photography.
California Naturalist John Lynch leads this easy, slow, 3.5 mile hike from creekside to hillside and back through the meadow using our cameras as tools to engage in the aesthetic appreciation of nature and natural landscapes while also documenting flora and fauna through iNaturalist.
If you haven't used iNaturalist, or haven't made an observation for a while, this is your chance – just make sure to load the iNaturalist app on your phone before you arrive and have your battery fully charged. Wear appropriate clothing and footwear. Bring at least a quart of water, a snack, sun protection, and if preferred, a digital camera/tripod.
We will meet at the main parking lot. Heavy rain cancels, parking fees apply.
Ease of access: the Creekside Nature Trail is short, flat, composite trail. The connection from Creekside to Hillside trail is a single-track, slopped uphill. Hillside Trail is a gravel fire road with two prominent hills of around 250 ft of elevation. Hillside Trail turns into Meadow Trail after the Brushy Peaks junction. Meadow, although not ADA-compliant, is a mostly flat fire road passable by wheelchair and stroller.

Jan
21
Sat
Senderos: ¡Hongos!

@ Sugarloaf Ridge State Park
Jan 21 @ 10:00 am – 12:00 pm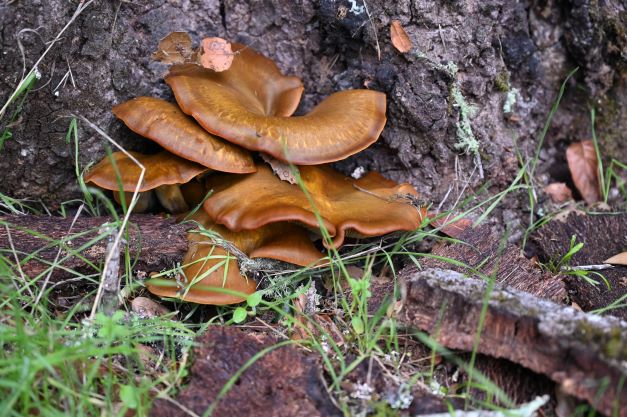 Sábado 21 de enero, 2023, 10 am-12:00 pm
No es una planta, no es un animal … ¡es un hongo! Venga a descubrir el extraño y maravilloso mundo de los hongos en Sugarloaf. Esta es una caminata ligera y charla acerca de la versatilidad de este reino, incluyendo su ciclo de vida, ecología, y usos. Tendremos la oportunidad de aprender como utilizar la aplicación móbil iNaturalist para ayudarnos a identificar especímenes que encontremos, así que cerciórese de que la batería de su dispositivo esté cargada. 
La ruta final será determinada ese día basado en el clima y las condiciones de los senderos. Nos reuniremos afuera del centro de visitantes. Los boletos cuestan $5 para adultos y son gratis para menores de 18 años. Por favor regístrese por adelantado ya que el espacio es limitado y se llenará pronto. El estacionamiento, usualmente $10, es gratis para este evento. Por favor vista capas, calzado adecuado para senderos lodozos/resbaladizos, protección solar, traiga al menos un litro de agua, y si desea, un bocadillo. Le sugerimos traer un espejo de bolsillo para observar la superficie debajo del sombrero del hongo, algo en que arrodillarse, y una guía de identificación de hongos, si la tiene. También le invitamos a traer una taza para que sus pequeños disfruten de chocolate caliente después de la caminata. 
Para más información, mande un correo electrónico a senderos@sonomaecologycenter.org o llame al 707-247-5767.
Facilidad de accesso: no es posible saber la facilidad de accesso de este programa, ya que la ruta se decirá el día del evento basada en las condiciones de los senderos y abilidad de los participantes.
---
English: Mushrooms! (en español)
It's not a plant, it's not an animal… it's a mushroom! Come discover the weird and wonderful world of fungi at Sugarloaf. This is a leisurely walk and talk about the versatility of this kingdom, including life cycle, ecology, and uses. This event is planned around a primarily Spanish-speaking Latino audience. Families from underrepresented groups are particularly welcome. Email senderos@sonomaecologycenter.org with your questions. Heavy rains cancel.
Ease of access: we are unable to determine ease of access for wheelchairs and strollers as the route will be decided the day of the event by trail conditions and participant ability.