When:
June 17, 2023 @ 6:00 pm – 7:30 pm
2023-06-17T18:00:00-07:00
2023-06-17T19:30:00-07:00
Where:
Sugarloaf Ridge State Park
2605 Adobe Canyon Rd
Kenwood, CA 95452
USA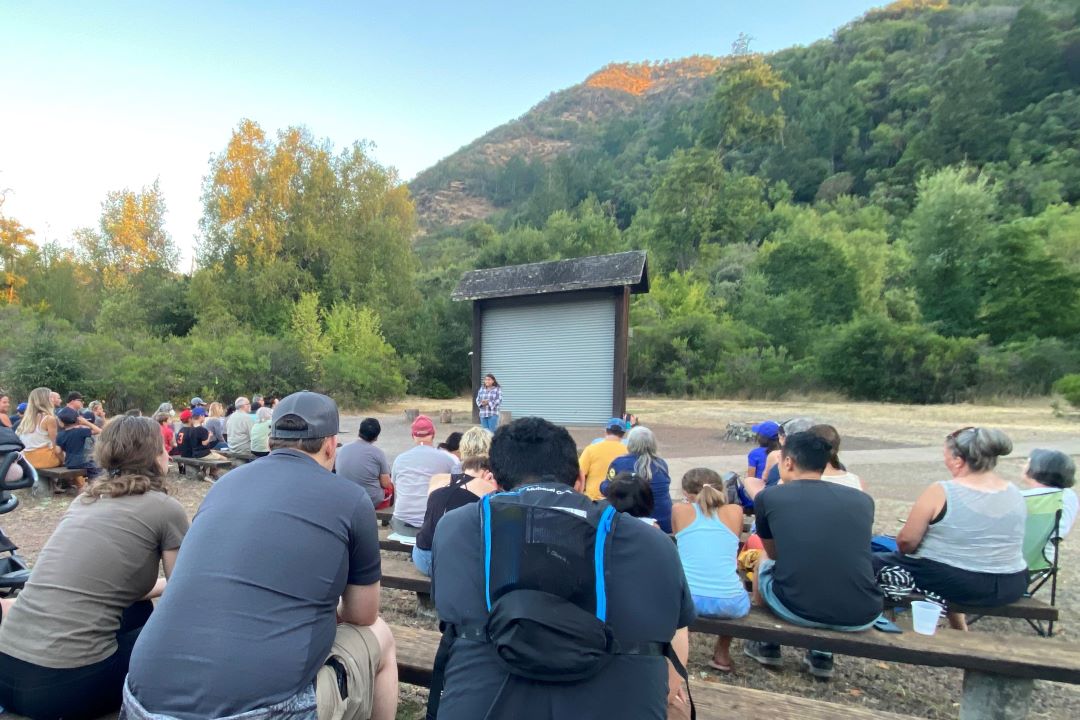 What would life be like thousands of years ago in Wilikos (today known as Sugarloaf Ridge SP)? How are the stories of the Wappo people in Wilikos continuing to evolve today? Join Desi Harp, Sugarloaf staff and member of the Mishewal-Wappo, and Breck Parkman, retired Bay Area California State Parks Archaeologist and former Sugarloaf resident, in this evening of storytelling and reflection through time as part of California State Parks Week's  'Celebrate Community & Culture' Day.
Tickets are $10 for general audiences, $5 for youth (12-17 year olds) and students, Sugarloaf members, Sugarloaf volunteers, and free for children under 12. Meet at the amphitheater. Bring layers, water and snacks as needed, and if you'd like, a cushion to sit on or your camping chair. Parking fees apply.
Ease of access: The amphitheater can be accessed through the Creekside Nature Trail (two trailheads: one at the White Barn and one across from the main parking lot), or through the bridge to the campground between sites 12 and 13. The 0.45 mi (one way) Creekside Nature Trail between the White Barn and the main parking lot is ADA-accessible. The White Barn parking lot has one van-accessible designated parking spot and one accessible porta-potty. Although the rest of the parking area is not designated as accessible, it is an open dirt lot that can accommodate up to 40 vehicles. The main parking lot equally has one van-designated parking spot and one accessible vault pit toilet. The rest of the parking area is not designated as accessible but it is also an  open dirt lot that can accommodate 30 vehicles. If you need further accessible accommodations, please contact alma@sonomaecologycenter.org as soon as possible.
California State Parks Week (June 14-18) is presented by California State Parks, Save the Redwoods League, Parks California and the California State Parks Foundation. Through special community events and in-person and virtual programming, this annual event celebrates California's 280 state parks and the people who visit and help protect these iconic places.
______________________
For more events at Sugarloaf, visit our calendar.