When:
January 14, 2023 @ 10:00 am – 12:00 pm
2023-01-14T10:00:00-08:00
2023-01-14T12:00:00-08:00
Where:
Sonoma Garden Park
19996 7th St E
Sonoma, CA 95476
USA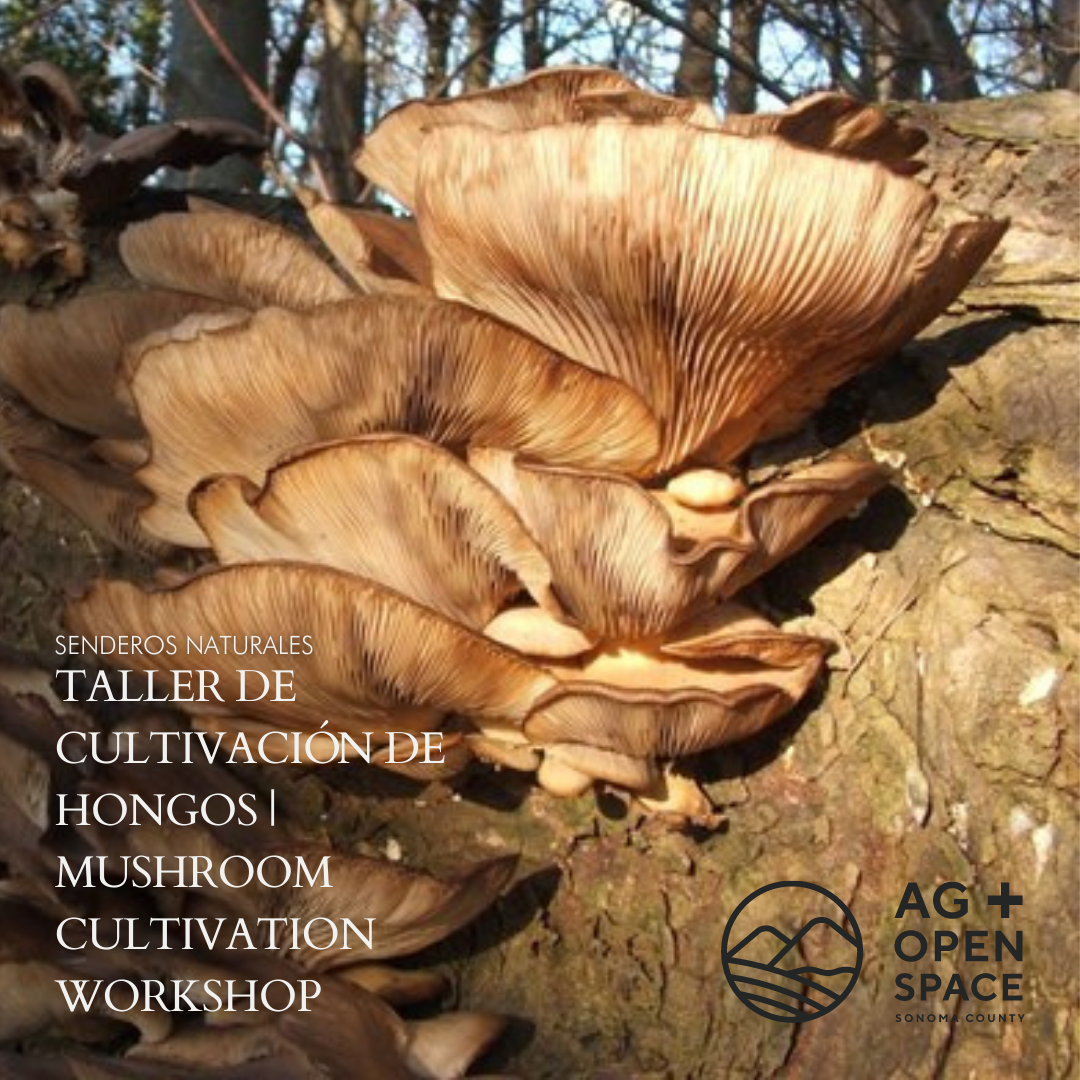 [English below]
¡Venga a un taller de cultivación de hongos el 14 de enero de las 10:00 am a las 12:00 pm  en Sonoma Garden Park! Aprenda métodos de cultivación fáciles y de bajo costo y cuando cosechar sus hongos. Este evento es bilingüe y gratuito pero le pedimos que por favor se registre ya que el espacio es limitado. El evento será al aire libre; vista ropa adecuada incluyendo chamarras y zapatos cómodos, y traiga agua. Las lluvias fuertes cancelan el evento. Para inscribirse, llame a Alma al 707-247-5767 o mándenos un correo electrónico a senderos@sonomaecologycenter.org
Sonoma Garden Park fue protegido por Ag + Open Space en Noviembre del 2011 para uso recreativo y preservación de sus recursos naturales, e igualmente aula educativa ambiental para salidas escolares de escuelas primarias cercanas a través del programa "Growing Discovery" de Sonoma Ecology Center. La propiedad de 6 acres, escondida en el este de Sonoma, es un parque público increíble y sitio de jardín de trabajo en el Valle de Sonoma, con un amplio conjunto de hábitats junto a sistemas diseñados de manera sostenible para uso agrícola y paisajista.
Este evento es hecho posible por los electores del Condado de Sonoma, quienes financian el trabajo de Ag + Open Space con un impuesto de venta de un cuarto de centavo.
Agradecemos a Mycopia por su donación de micelio para hacer este taller posible. Los hongos de Mycopia son cultivados con cuidadosamente por Gourmet Mushrooms Inc., pioneros en la cultivación de hongos de calidad gastronómica especial en los Estados Unidos desde 1977. Crecemos 5 variedades de hongos aquí mismo en el Condado de Sonoma, que puedes encontrar en tu mercado local.

---
ENG: Come to Sonoma Garden Park on Saturday, January 14, 10:00 am-12:00 pm for a bilingual mushroom cultivation workshop! We will learn about easy and inexpensive mushroom cultivation methods and when to harvest. This is a free, bilingual event planned around a primarily Spanish-speaking audience. Registration is required as space is limited. Bring water and dress warmly, as the event will be held outside the barn. Heavy rain cancels the event. For questions or more information, please contact Alma at senderos@sonomaecologycenter.org.
There is no charge for this outing, which is made possible by the voters of Sonoma County who fund the work of Ag + Open Space with a quarter-cent sales tax.
Sonoma Garden Park was protected by Ag + Open Space in November of 2011 for recreation and preservation of its natural resources, and learning classroom environment for agriculture field trips for nearby elementary schools through Sonoma Ecology Center's "Growing Discovery" program. The 6-acre property, hidden in eastern Sonoma, is an incredible public park and working garden site in Sonoma Valley, containing a wide array of habitats alongside sustainably designed systems for both agriculture use and landscaping purposes.
We are thankful to Mycopia for their donation of mycelium to make this workshop possible. Mycopia mushrooms are cultivated with care by Gourmet Mushrooms Inc., pioneers of specialty mushroom cultivation in the US since 1977. We grow 5 varieties of specialty mushrooms, right here in Sonoma County, that you can find in your local grocery store.